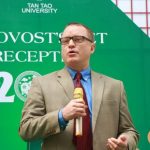 Dr. Henry Webb

Dr. Webb is the Vice-Dean of the Tan Tao University School of Business and Economics and an Associate Professor of Business Law at Indiana University of Pennsylvania ("IUP") in Indiana, Pennsylvania in the United States. Dr. Webb earned his Juris Doctorate from the Lewis and Clark Law School in Portland, Oregon in 1996, and his Master of Business Administration degree from the University of Georgia in Athens, Georgia.
From 1996 to 2007, Dr. Webb practiced law for law firms in Seattle, Washington and Atlanta, Georgia. In 2007, Dr. Webb moved to Ho Chi Minh City, Vietnam, where he taught Business Law at RMIT International University Vietnam. From 2011 to 2014, Dr. Webb taught Legal Research and Writing for the Qatar University College of Law in Doha, Qatar.
Dr. Webb's research interests involve the intersection of law and technology, environmental and energy law issues, and best pedagogical practices.
Recent articles published by Dr. Webb in peer-reviewed academic journals include "Virginia Code § 55-154.2: An Unconstitutional Taking of Virginia Landowners' Ownership Interest in Mine Voids for the Benefit of Private Industry," Oil, Gas & Energy Quarterly, Volume 67, Number 2; "The Mine Void and Pore Space Conundrum Posed by the Anti-Kelo Movement," Oil, Gas & Energy Quarterly, Volume 66, Number 1; and "How Will Transportation Network Companies 'Fare' Under the Laws of the Keystone State? Lessons from Uber's Entry Into Pennsylvania," Journal of the Northeastern Association of Business, Economics and Technology, Spring 2017.
Dr. Webb is married to the former Đinh Thị Bích Thảo of Tan An, Long An Province, Vietnam, and together they have an eight-year-old son, Cousteau Tạo Webb.
Dr. Webb is married to the former Đinh Thị Bích Thảo of Tan An, Long An Province, Vietnam, and together they have an eight-year-old son, Cousteau Tạo Webb.
---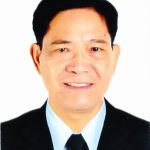 DR. FRANCISCO TULOP ROMA

He is a lecturer of the Tan Tao University School of Business and Economics since September 4, 2018 up to present. Dr. Roma earned his Bachelor of Science in Administration, Bachelor of Law, Master in Business Administration degrees in the Philippines and his Doctor of Business Administration degree from the Colegio De San Juan De Letran, Manila, Philippines in 2009.
Dr. Roma has 20 years of corporate experience and 18 years teaching experience in the academe both in different universities and colleges in the Philippines and in foreign countries such as AMA International University, Kingdom of Bahrain and Management Development Institute of Singapore in Tashkent, Uzbekistan in Central Asia. Dr. Roma taught Business Law, Business and Management Research, Strategic Management, Organization and Management, Marketing, Human Resource Management and any other core courses under the field of Business Administration.
Research Interests
His research interest during his MBA program (2001) was in the area of training and development of personnel. Obviously, because he was managing and supervising then more or less 2,500 personnel. Because of the absence of training program during that time, his main objective was to design and introduce an ideal training program for security personnel that would provide security protection to the lives and properties of industrial firms. Then came his DBA program (2009) where his research utilized model-building approach as it focused on formulating "a model for operational effectiveness" for all security companies in the country. He actively pursued and completed these research projects in collaboration with different security companies and organizations.
Dr. Roma had been associated with the AMA International University in Salmabad, Kingdom of Bahrain from 2010 to 2011, as Lecturer, wherein he conducted and completed a research paper entitled "Consumers' perception on the Privacy and Security in E-Commerce". This research study, however, remained unpublished up to now.
Dr. Roma research interest and teaching activities concern the areas of Business Administration/Management and Business Law. Hence, he is particularly interested on the following: 1) to find out and examine the applicability and relevance of different management approaches/theories to the current and unpredictable business environments; 2) to develop a management/leadership style that could ideally be applied in a particular area in the context of globalization; 3) to introduce the analytical frameworks and model in Business Administration and Management; 4) analyse how different kinds of "environments" influence our perceptions, behaviour and how individuals try to cope with these influences by applying different coping strategies; and 5) problems that arise on legal aspects of Business Administration/Management and Security.
Recent Publication:
Article entitled "Management & Society" – Tan Tao University Review – January 2019, Long An, Vietnam
---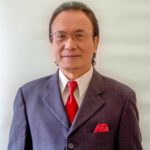 Dr. Michael L. Pham, (2016-2017) He received Jurisprudence Doctor, San Francisco Law School New College of California Law School, U.S.A. in 1993; Master of Sciences in Taxation, Golden Gate University, U.S.A. in 1988; Master of Arts in Economics, University of San Francisco Lincoln University, U.S.A. in 1973; Bachelor of Arts in Law Economics, University of Saigon, Vietnam in 1970. Dr. Michael L. Pham has practised law for 45 years. He was the lawyer of Vietnam jurisdiction since 1970. From 1993 to present, he has been licensed the Attorney at Law by the State Bar of California, specializing on International Business Consulting Project Financing. He is also the Founder Owner The Law Offices of Michael L. Pham –San Jose, California, U.S.A; Founder C.E.O. Chairman – International Business Consulting Networks – San Jose, California, U.S.A. from 2007 to present. He was certified Public Tax Consulting Accounting, General Securities License –NASD (U.S.A.from 1980-1993), Practice before U.S.A. Court of Appeal (9th Cir. U.S.A.), Practice before California Superior Court. (U.S.A.), Practice before United Tax Court (U.S.A.), Enroll To Practice Before Internal Revenue Service (U.S.A. since 1980-present ). He is C.E.O. of American Technology International, Hanoi -Vietnam in 2010. He has visited more than 55 projects in Vietnam from North to South and served more than 10 Vietnamese clients with assets from 10 mil. USD to 1bil. USD. Dr. Michael L. Pham is author of "Smart Money" and "Perfect Entrepreneur – Who are you?" published in Vietnamese; Founder of the training program in Entrepreneurship (IBCN-2014).
---
Dr. Thai Vu Hong Nguyen - Visiting (2014 - 2015) Ph.D. in Monetary Economics, Banking and Finance (The University of Nottingham), BA Honours in Finance, Accounting and Management (The University of Nottingham). He used to work as a strategist for an international bank in Vietnam before pursuing his Ph.D. His research interests include monetary policy transmission, banking performance and risk-taking.
---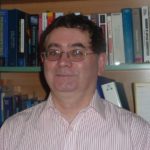 Dr. Bob Baulch - Visting (2012 - 2013) Ph.D., Agricultural and Development Economics, Food Research Institute, Stanford University (U.S.A.);  M.A. Development Economics, University of Sussex (United Kingdom); B.A., Philosophy, Politics and Economics, Oxford University (United Kingdom). Dr. Baulch specializes in agricultural and development economics with a focus on food price analysis, household surveys and poverty dynamics.  He was worked in more than 20 developing countries in Asia and Africa, and was a Fellow of the Institute of Development Studies at the University of Sussex for thirteen years.  In Vietnam, he has been lead economist for the Prosperity Initiative (2008-2011), and a quantitative poverty specialist for the World Bank Resident Mission in Hanoi (1999-2001). His research and consulting has involved impact assessments of anti-poverty programs in Bangladesh, Lao PDR and Vietnam, statistical and econometric analysis of the Vietnam Living Standards Surveys, training government and local researchers in poverty and policy analysis, poverty mapping, agricultural marketing, and ethnic minority issues. He brings to TTU a strong interest in developing a center for research into climate change adaptation and mitigation.  The center will bring together faculty from the Schools of Business and Economics and Engineering to work on problems related to the consequences of and adaptation to climate change.
---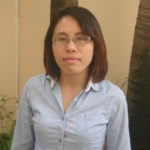 Ms. Tu-Anh Pham - (2013 -  2015) Master of Accounting (Curtin University); BA in Accounting and Auditing (VietNam National University - Ho Chi Minh City); BA in Control Import, Export Goods and Tax (College of Finance and Custom). Before becoming a teaching staff in TTU, she worked in Customs Department of Ho Chi Minh City and was an accountant for several companies in Vietnam. Her research interests include fair value accounting, accounting information system and auditing. She currently works in several universities in Ho Chi Minh City and is a consultant for some merchandising companies.
---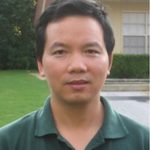 Dr. Van-Giap Nguyen (2012 - 2013) Ph.D. in Applied Economics, M.Sc. in Probability and Statistics (Auburn University, USA.); M.A. in Development Studies (Institute of Social Studies, The Netherlands); B.Sc. in Aquaculture with a major in economics (Nha Trang University, Vietnam) Before joining TTU, Dr. Giap has worked for NGOs, research institutes, universities in Vietnam and in the United States. He is currently doing research on agricultural international trade, seafood demand analysis, market structure and competition, economics of climate change, and food security. Dr. Giap has presented his research in numerous international conferences, and his papers are published or forthcoming on Applied Economics, Marine Resource Economics, Journal of Aquaculture Economics and Management, Journal of American Academy Business, Tropical Agriculture.
---
Dr. Sinha Pritibhushan - Visiting Dr. Sinha has a distinguished academic record of teaching at some of India's top graduate schools of business, including several years at the Indian Institute of Management, Kozhikode, and publishing research in leading international journals. He has presented his research in India, Thailand, Indonesia, and Germany. He was educated at the renowned Indian Institute of Technology (Karagpur) where he took his B. Tech (Honours) degree in Manufacturing Science and Engineering, followed by his doctorate at the famously selective Indian Institute of Management, Calcutta, where he became a Fellow (Ph.D) in Operations Research & Systems Analysis in 1994. His research interests are in production processes and inventory planning, quality management, maintenance management and control, and more generally in applications-oriented operations management, research methods, and solutions. In addition – as an accomplished "practitioner- scholar" - he has extensive experience in working with and consulting for major companies in several industries, as well as numerous training programs for corporate executives.
---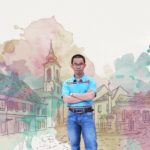 Ph.D. in Accounting (University of Economics, HCMC) MBA (CFVG - HCM); M.A. in Accounting (University of Economics, HCMC). Before joining Faculty of Accounting – Auditing of IUH (Industrial University of Hochiminh City) in 2010 as a permanent lecturer, he has worked for some Vietnamese enterprises throughout some positions such as Chief Accountant, Import – Export Manager, Sale Director and CEO (since 2006 to 2010) of Saigonpart (scale of more than 350 employees). He is currently doing as consultant of some enterprises in restaurant industry, manufacturing ... His reasearch has focused on management accounting, business management, human resource … He has presented my research in some international conferences, and his papers are published on both of Vietnamese Journal and International Journal concerning about Management Accounting, Business Management.